All Bespoke enclosures are available in clear, satin etched and crystal clear low iron glass. Tinted and mirrored glass is also available in our Frameless and Beyond Bespoke portfolios.
Our glass range offers a subtle spectrum of colours. From clear to understated tones of smoke grey to bronze, with additional colours available on request.
For the ultimate in clarity, we offer low iron, optically clear glass often described as white. We can also supply glass that is etched with acid to achieve discretion and opacity.
Newly available, our mirrored and fluted glass will add another dimension to your sanctuary.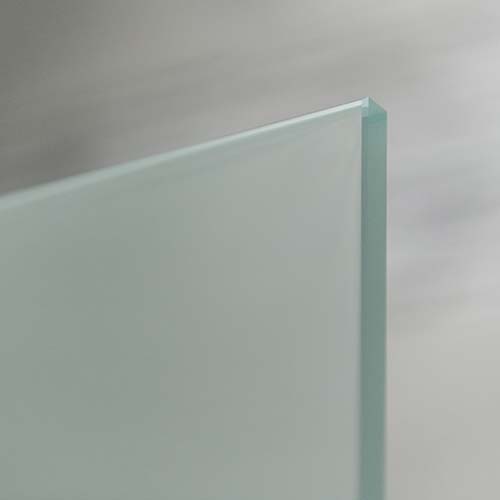 Glass options shown on Maine straight shower screen:
1. Clear, 2. Satin Etched, 3. Grey
All Frameless Essential and Beyond Bespoke shower screens are made in 10mm thick glass. Demi Framed is made with 8mm glass. All glass is toughened safety glass to BS EN 12150. 
In accordance with BS EN 14428 each enclosure is marked with BS EN 12150, usually on the leading edge of the door or panel.
Glass options
All glass is available both clear and acid etched. Crystal clear low iron glass, coloured glass, mirrored and fluted glass is now available as a bespoke option.
Please note that fluted glass is laminated, providing greater strength and shatter resistance. Due to this there is a visible line on the end of the panels, separating the two panes that have been bonded together. This joint is visible only where the end of the glass is exposed and there is no seal, for example on a Wall Panel.
For pricing information please see the specification page of your chosen product.
Glass protection
Majestic have researched all the glass protection products available in Europe and the United States. We find that EnduroShield is optimum for showers. The properties are such that we guarantee the effectiveness for five years. Only a damp micro-fibre cloth and mild detergent should be used for cleaning.
UV Bonding
UV bonding is a process which enables glass panels to be joined without the use of metal fittings and silicone. The join is incredibly strong and completely invisible, leaving clean, undisturbed lines for an ultra minimal finish. Majestic are able to offer bespoke glass for on-site UV Bonding. Please contact us for further information. UV bonding is available only when using Bespoke Services.